THE STORY OF
UNLOCKD MASSAGE
'I have come to believe that caring for myself is not self- indulgent. 
Caring for myself is an act of survival.'
~ Audre Lorde
THE STORY OF
UNLOCKD MASSAGE
'I have come to believe that caring for myself is not self- indulgent. 
Caring for myself is an act of survival.'
~ Audre Lorde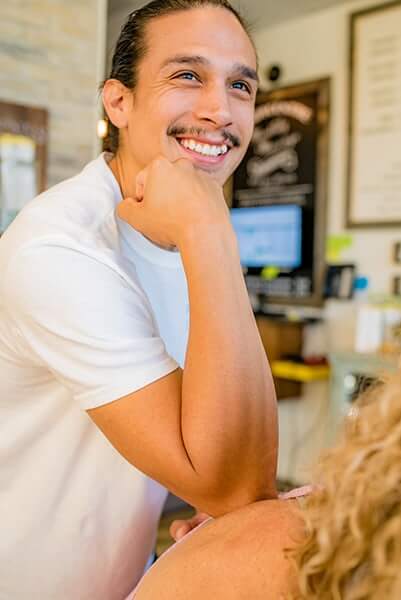 I'm an in home massage therapist in Costa Mesa with clients throughout central OC, and if you've been experiencing a lot of stress lately, or you have aches and pains that keep you awake at night, you're in the right place!
As a massage therapist, I see the damage that life's stressors do to a body on a daily basis. I see how pain and chronic stress can rob a person of the joy they once took in everyday activities.
I see people spending big bucks on gym memberships and whole, organic foods and yoga and Pilates, yet they still can't quite rid themselves of the feeling that they're carrying the world on their shoulders.
Well, here's the thing. You only get one body.
And if despite all the good you do for yourself you still experience pain and suffer the chronic stress that affects many of us in today's fast-paced society, you deserve to give yourself the one thing that is proven to help alleviate stress and reduce pain.

My life's work has always been to help others, so it's no surprise I was drawn to massage therapy. Those summers massaging my mother and grandmother's feet for ice-cream money obviously paid off!
My career started over 12 years ago after graduating from the American Career College with honors and obtaining national certification from the National Board of Therapeutic Massage and Bodywork and California Massage Therapy Council.
Since then, I've worked on many different types of clients, including athletes, first responders, health and fitness fanatics, health care workers, and moms-on-the-go.
And now, after logging over 10,000 hours of bodywork working for various organizations, I'm fortunate to work as an in home massage therapist offering a range of massage treatments that can be experienced right from the comfort of your own home.
I'm living my dream of helping my clients live their lives to their very fullest potential.
In Home Massage - What I Offer
I specialize in Swedish massage, trigger point therapy, and deep tissue massage—whichever treatment you choose, it can be customized to suit your individual needs, something we'll discuss during your first appointment.
Engaging all your senses during your treatment is an important step, so hot stones, healing aromatherapy, and warm towels are complementary with each service.
Because I come to you, you eliminate the stress of traveling to and from an appointment, plus you can prolong your relaxation by having a bath after your massage if you choose.
My easy online scheduling system makes it easy to make an appointment and eliminates any need for stressful phone tag!
Contact me today to make your first appointment. Make this the day you start to unlock a life that's free of stress and pain.
To relax the mind, body, and spirit with massages that engage all the senses. To improve quality of life by educating our customers on how to sculpt out some time each day to perform a simple self-care routine.
At Unlockd Massage, we believe that self-care is an essential part of the wellness puzzle, not just a one-off luxury. We offer in-home, customized treatments to all our clients, especially those in need of pain relief. We believe the body was designed to heal and repair itself, and our goal is to assist the body in this healing process, while at the same time soothing the stresses of the mind and spirit.
All of our products are USDA Certified Organic made from small-batch ingredients. Everything has gone through rigorous quality control measures to ensure the best possible ingredients for our clients.